Last time we talked about the phenomena that is Wikipedia and the other Wikimedia projects associated with it. In this blog I walk through my first steps as I try to contribute to a Wikimedia project.
I went to the Wikipedia main page, and registered to become a contributor. After searching for topics that interested me, I found an entry that could be improved by adding an image that I had made. So I decided to start by adding this image to the site.
Now, this seemed simple at first. Every page has a link at the top that says "edit this page". When you click there you're shown a text box, like those used to enter posts in a forum. But inside the box, the page is written in Wikipedia's own special mark-up code called wikitext. It isn't HTML. It's something that you have to learn.
To add an image to the page, I have to first upload the image to the Wikipedia servers, then I can insert the code referencing the image in the text. First, I click on the link that says "upload file" found to the left of the screen in a little box labeled "toolbox". Clicking here takes me to this scary upload page full of disclaimers.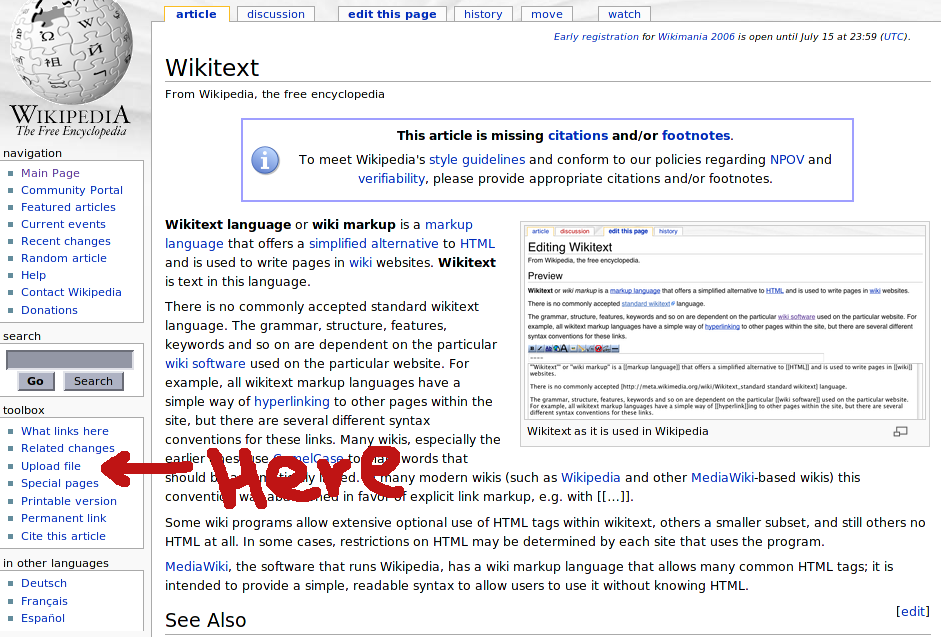 The upload page allows you to browse your harddrive for an image and upload it. It has a box for adding a summary, and a licensing section. The license options include: found the image somewhere", which I guess means "delete me now!"; the GFDL; Attribution share alike license; public domain; and many others catagories including posters, album covers, and screen shots. I used the attribution share alike license. If you forget to add a license then you will get a message on your personal talk page telling you to do so or the image will be deleted.
So, I filled in the text, added an image, and pushed upload creating a new image page in Wikipedia, but I still needed to insert it into the page. Going back to the Wikipedia article, I clicked on the "edit this page" link. The edit window opened and I tried to figure out what it all means. The bottom of the page, has the buttons "save page", "show preview", "show changes" and a link that says "editing help". The Wikitext is a bit daunting at first. There are many specialized codes, and you have to learn the interface, but you can practice your codes on a page called the sandbox before you enter it for real.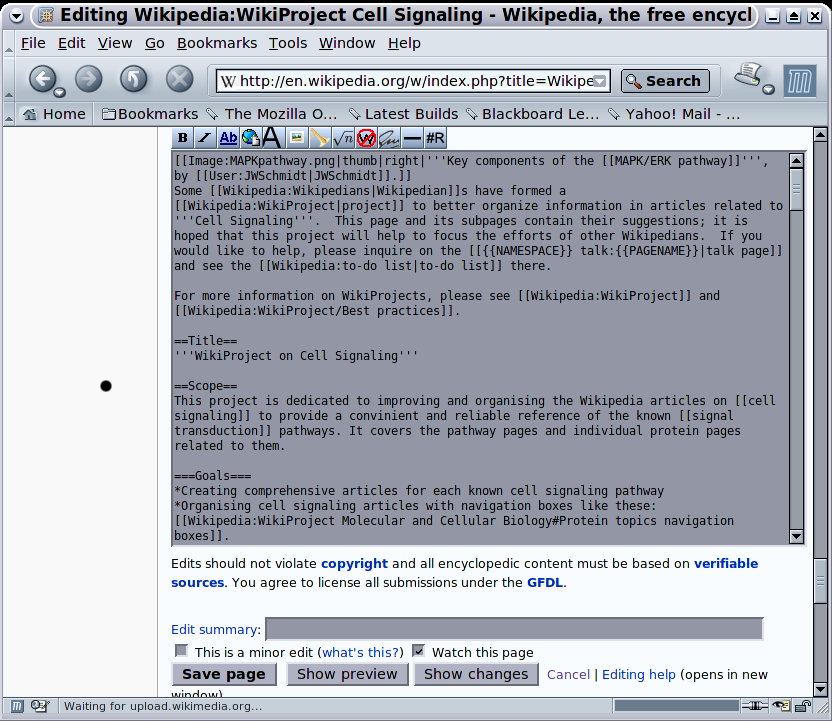 Looking at a Wikipedia edit page the fist time, I realized that I had no idea how to add an image to this page. I needed help. So I followed the link marked "editing help". This link took me to a page that listed some wikitext codes. There are actually many editing help pages. Each one was a bit different. It can get quite confusing if you're looking for how to do something specific. After reading, not understanding, searching for help, and reading some more, I finally entered the code to add my image to the page, and after previewing it, I pushed "save page". I had now officially become a Wikipedia contributor.
Now people all over the world can see my little image. I have become published in a larger work. It feels good to contribute. I guess that this is why Wikipedia works. Because everyone can add whatever bit of knowledge that they know however small so that everyone benefits. People helping people. That's what makes a wiki work. People like to help other people. Contributors to Wikipedia form their own little society of "Wikipedians". Next week, I will talk about the social aspect of posting on Wikipedia, about those who love it, and those who don't.